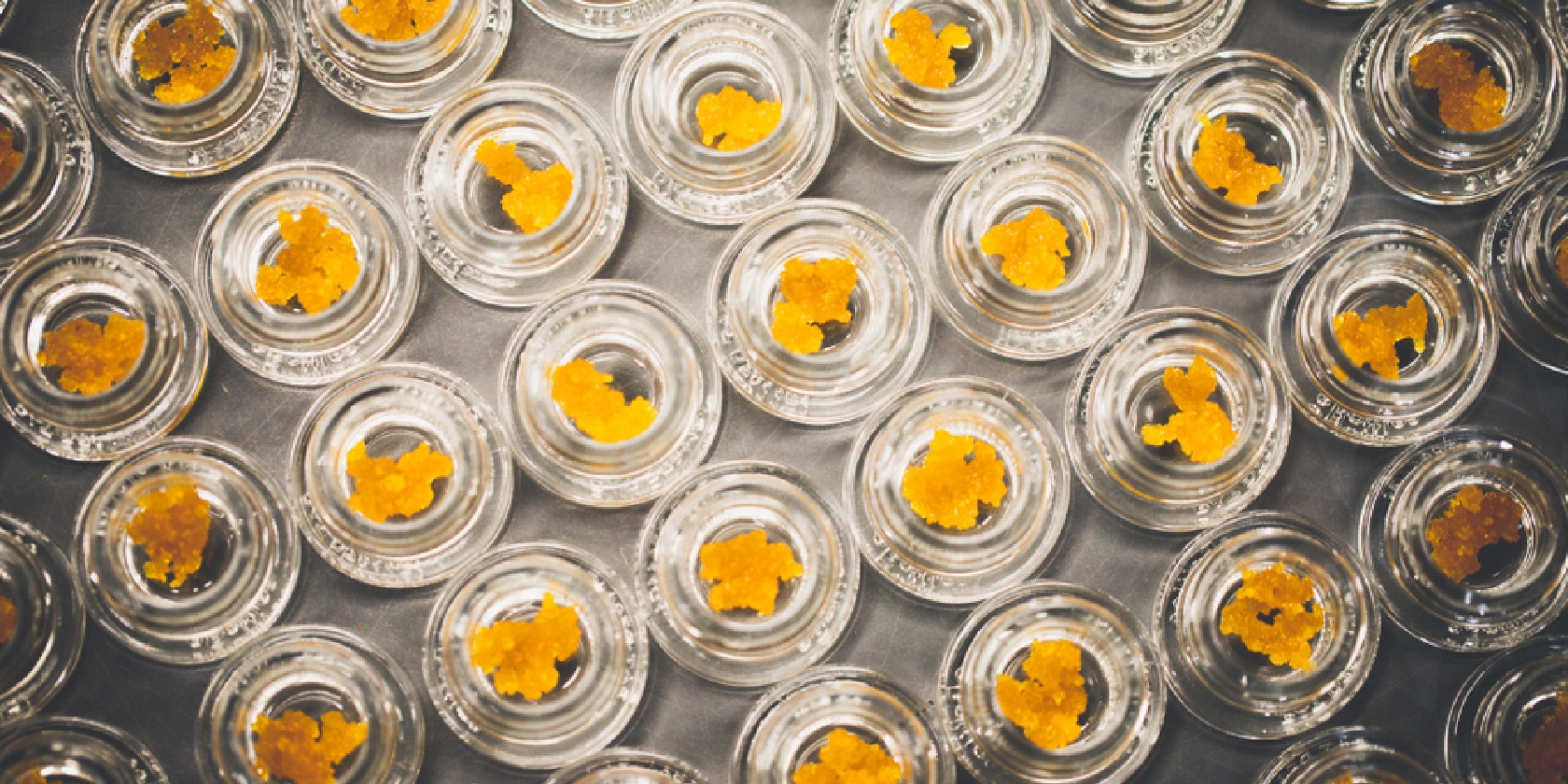 If you're a fan of some of the most flavorful, terpene-rich, boundary-pushing extracts on the market, there's a good chance you've already heard of Cali Blaise. The brainchild of New York-born cannabis wizard Blaise Lugo, Cali Blaise's concentrates are a line of truly mind-bending extracts out of San Diego. And with upcoming collaborations with NoCal leader Xotic Flavorz, Cali Blaise is truly defining the cutting edge of the cannabis extract world.
The Sanctuary is proud to carry some of the most exciting Cali Blaise concentrates. If you haven't yet tried them out, here's a personalized introduction to a few of our favorites.
Cali Blaise Concentrates: Chill Cake Badder
You really will find yourself "chill" after a taste of this creamy confection. Delivering an earthy, peppery-sweet flavor, we love this concentrate for its unbeatable, relaxing, and calm high.
Cali Blaise Concentrates: Ice Cream Cake Diamonds
The nearly hypnotic-looking crystals that form in "sauce," these diamonds are made of pure THCA, the cannabinoid precursor to THC. Grab a dab and you'll find yourself sinking into a creamy, vanilla-scented pillow of flavor, followed immediately by a sedating, full-body high that will leave you at maximum relaxation status.
Cali Blaise Concentrates: Strawberries and Cream Badder
A cross between the Strawberries and Cookies and Cream strains, this balanced indica-sativa hybrid is noted for its delicious limonene-kissed flavor profile and a cerebral uplift that delivers a jolt of creativity. What's more, the effects fade into an easygoing relaxation while the mind stays alert, making this a favorite daytime strain for creative types.
Cali Blaise Concentrates: Mac-Lato Badder
Combining dank with diesel, the flavor profile and aroma of this rich badder delivers a heavy-hitting blast of earthy funk and spice on the nose. Don't worry. You'll see the light, as the effects are anything but dark: You can expect a happy, relaxing, and creative high to ensconce you. This badder works hard to chase away tough symptoms such as chronic pain, insomnia, and anxiety.
Cali Blaise Concentrates: Lava Scout Badder
Cali Blaise has a way of sourcing unexpected and unusual cultivars to work with, and this uplifting extract has a way of imparting a uniquely tranquil euphoria. Look for deep, full-body relaxation to wrap you up as a sense of unshakeable calm takes over. Eventually, the sensations will drop you down into a pleasant haze, great for ending the day in restful slumber. Special note: All Cali Blaise cannabis products are known for their exceptional aromas, but this one is definitely a fan favorite. One reviewer describes it as, "stealing a smell from a cookie jar." Get a hit of those sweet, earthy, and piney flavors and we won't be surprised if you're a fan for life!
As always, thanks for checking out our selection of exceptional cannabis products! If you need suggestions—or you have any questions about specific products—just ask! We'll always take care of you.
And if you're in the greater Sacramento area and need us to bring the goodness straight to your door, we can accommodate you at home with our delivery service, instead.